Hey Bloggie Buds, sorry I have been away from the Blog-O-Sphere as of late. I have had an unexpected repair to my Mid Century Crap Shack that has literally kept me out of the house. What I thought was just a few rotten steps needing to be replaced turned into
the whole damn staircase being torn down and needing to be replaced
! Apparently a colony of termites chowed down pretty hard on those ancient stairs! Today is hopefully the last day of the "Big Stuff" and I will be able to once again re-enter the apartment. You see, I live on the second floor! The cats have been really bummed about sleeping outside too so they will be just as glad to get back in!
Those Old Steps Are History!
As for blogging
, the renovation has really put a damper on things. I cannot get into even the garage to finish my Arcade posts let alone upstairs to use the computer (I'm blogging from work right now....
shhhhhh!
) So today I'm gonna show some love to a few other blogs I frequent. As I'm sure you have noticed, the vintage blogging universe is mostly full of us broads yapping away at our awesome Pyrex & Vintage Accessories which is Fine and Dandy in my book...but I ask you, what could be
Finer and Dandier
than
DUDES
doing the same thing???
Here are a few blog hosted by the Swankiest & Grooviest Hombres out there. So hang on Ladies, lets bring in the Fellas!
Hoarder of Awesome
This guy, right here is the reason I'm blogging. I saw his blog and thought to myself,
that there
is what my
own
blog would be like! He and I have a lot of the same weird collections and how can you resist the title, Hoarder of Awesome, that's what we all do folks...hoard awesome stuff! I don't know him personally, I just some how stumbled upon his blog out there in the Internets. When I read his posts about dumpster diving and large trash days in his neighborhood, I was hooked. He collects among many things, weird stuffed animals, Pulp Fiction Novels, he loves old cars and makes rad-ass art. His girlfriend even owns a super cute bakery:
I don't know where these two live but I wish that we were neighbors!
He also has the distinction of BUI (
Blogging while Inebriated
). That post killed me! I totally recommend following his blog, he only has 11 members right now but deserves a big audience! Check out
Hoarder Of Awesome
today!
Uncle Atom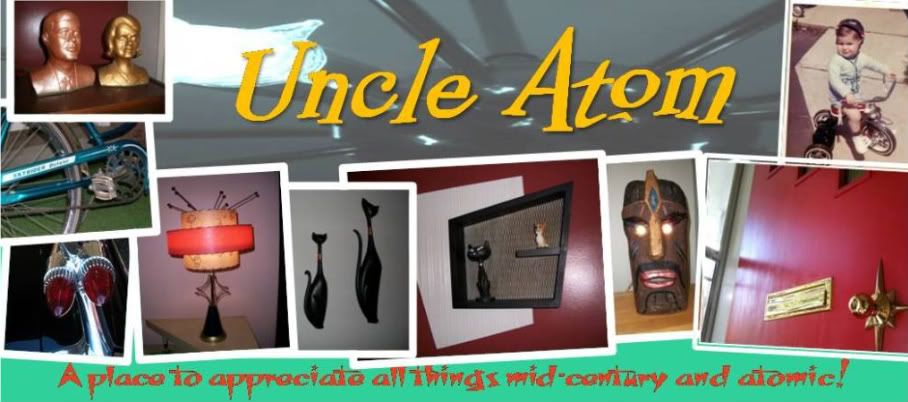 "A place to appreciate all things Mid-Century and Atomic"

Uncle Atom is great! I wish he were my real Uncle cuz I'd be over at his place wrenching on cars and tagging along on his thrifting road trips! He is restoring a 1962 Shasta Airflyte camper and has several old cars: '63 Comet wagon, a '64 Mercury Park Lane convertible, and a 1967 Mercury Cougar XR7. You know I'm a wagon lover, I'd love to see the Comet he's got!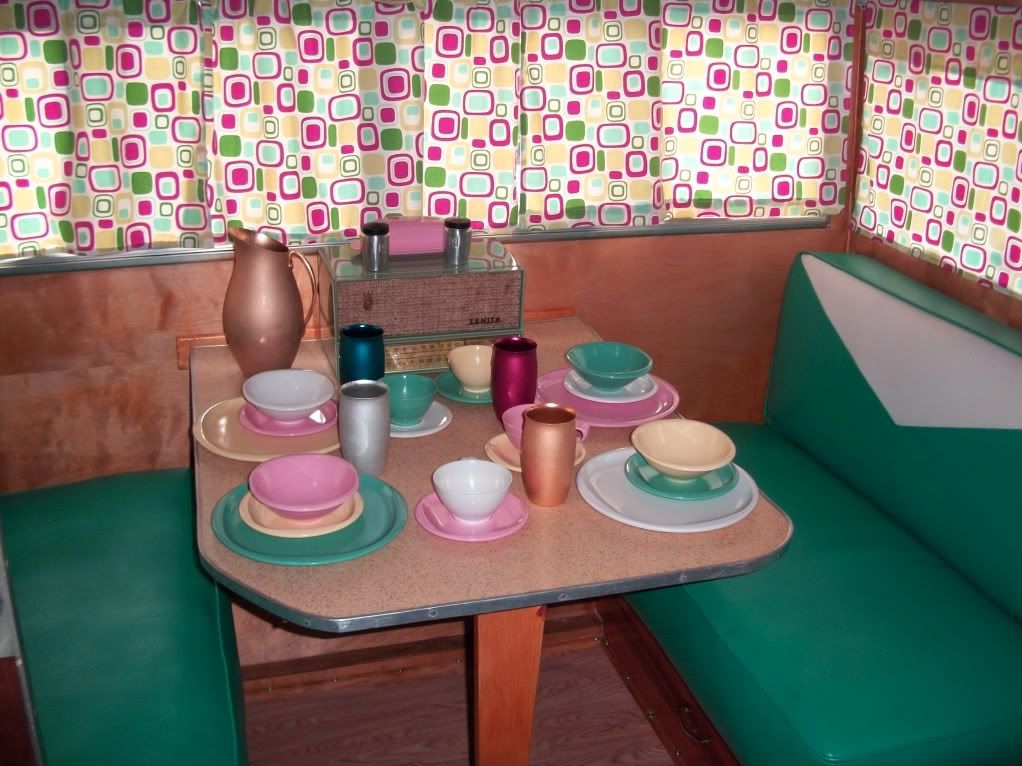 This is inside his camper!
He decorates his place all Mid Century and seems to have a pretty easy goin' significant other who doesn't mind a crazy project or two-hundred. God bless all the tolerant S.O.'s out there for putting up with our crazy asses! One of his coolest scores as of late is the Jolly Wood Carved Tiki Man! Gotta love the Tiki!
Uncle Atom's
is the place to be for Mid Century Dude-ness! Check it out!
Living In The Past
Is brought to you by Retro Kieth, a super hip Daddy-o who is restoring a Mid Century house to call his own! He is continually scoring all kinds of good stuff and his place is like a museum! He has as-of-late picked up a chrome kitchen dinette set, a two person lawn glider and many many other cool sh*t!
He restores this stuff on his own too, in a matter of days he can transform something old and rusty into something that looks brand-spanking new! His place is an inspiration and his forward motivation always makes me look lazy! Go Kieth Go! Check out his many awesome posts and feel like you are
Living In the Past
!
Every One Goes To Mick's
Man, what can I say about this guy! He bought this 1940's cabin at the lake when he was like, 12 and has been restoring it ever since. It has been dubbed The Casablanca. He has his own FREAKIN' Drive In in the backyard, complete with drive in speakers and vintage aluminum lawn furniture! He loves old movies and shows and has been acting in community productions of famous Broadway musicals...and he's not even 21 yet!
OMG, when I first started reading his blog, I was blown away...I mean I guess I still am! He does all this and still finds time to take his Grammy to the hair salon once a week. If you ever have trouble finding vintage stuff its probably because all of Mick's good Karma is creating a black hole of Vintage-Goodness over in his corner of Texas! Go check out the
Casablanca
, you may never want to leave!
Atomic Living
This blog was pointed out to me by the Fabulous Lady proprietor of Atomic Ranch House, who planted the seed in my mind of featuring the fellas. I haven't had the time to delve into the archives yet but from what I can see it is highly stylized blast into the past!
This guy's collections and place are stunning! This blog is a good place for eye candy, DIY tips and Mid-Century History lessons. I'm a new follower and can't wait for my daily dose of Man-styled Atomic Life! Check out
Atomic Living today
!
So, that's it for the Man-Love-Fest! Hopefully I'll be back this weekend with more Arcade Posts! I'm thinkin' after that it'll be Vintage Trailer Time! Have a great weekend everybody!!