Okay, I admit it...
I've been holdin' out on y'all.
I've been saving the
BIG
stuff, the
BEST
stuff the
CRAZIEST
stuff until I had a few good people to share it with. I love this blog and I love my readers so I can't hold out anymore! Its time to open the vault! So Folk's, hold on tight....
HERE GOES!
W
E
L
C
O
M
E
T
O
T
H
E
T
I
K
I
B
A
R
-
A
R
C
A
D
E
Its very hard to photograph all in one shot, so we'll take a quick tour!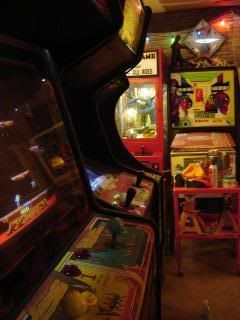 The left wall has 5 arcade machines (not all pictured here) They are Shinobi, Kyros, Joust, Fantasy 95 and Birdie King II. Almost all of these games have come to me either free or through bartering!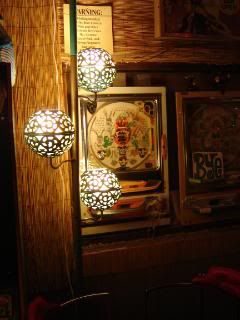 After the Arcade machines on the left side there is this fine specimen of a pole lamp and two decorative (aka busted) pachinko machines and this old sign found in an abandoned truck stop diner
The back wall has a Claw Machine stocked with stuffed animals and these three sleepy pinballs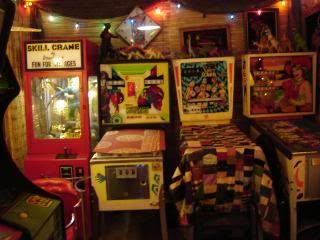 Don't they look cute all tucked in & ready for bed? When not being played, I cover them up to protect the
glass from getting scratched. Up top is my collection of Plastic "China-Saurus" toys. Don't worry we'll get to close ups of all the little stuff in another post!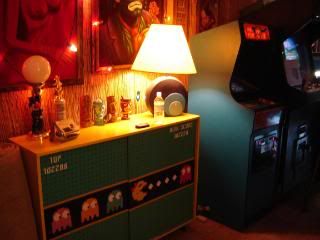 Turning the corner to the right wall there is a vintage storage cabinet that I found on the side of the road. I painted it to match the game to the immediate right, my Ms. Pacman Machine!
Just after Ms Pacman is another classic, Altered Beast!
Oh wait, whats that peeking out from behind Altered Beast? Could it be my crown jewel?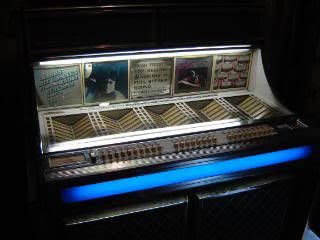 Why yes! Its my best score yet, my 1964 Seaberg Juke Box! It plays 45's and boy do I have a bunch of those! Its still under repair but doesn't need much in the way of restoration, it is BEAUTIFUL!
Now, the last thing we'll skim over is my brother's favorite pinball EVER:
BRIDE OF PINBOT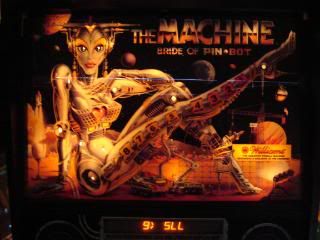 This Sexy Lady is on a lay-over to my brother up in Oregon. I found it for sale on Craigslist and sent him the link. He took one look and called me to say that he had to have it. For a while, its in my trust and I get to play it as much as I want!
Thats it for now! I'm going to continue posting on the arcade all week. I'll go over each game and crazy collection down there from the velvet paintings to the tiki mugs! I can't wait to show it all!