Here is another sweet score from the
Ultimate Church Rummage Sale
I went to a couple of weeks back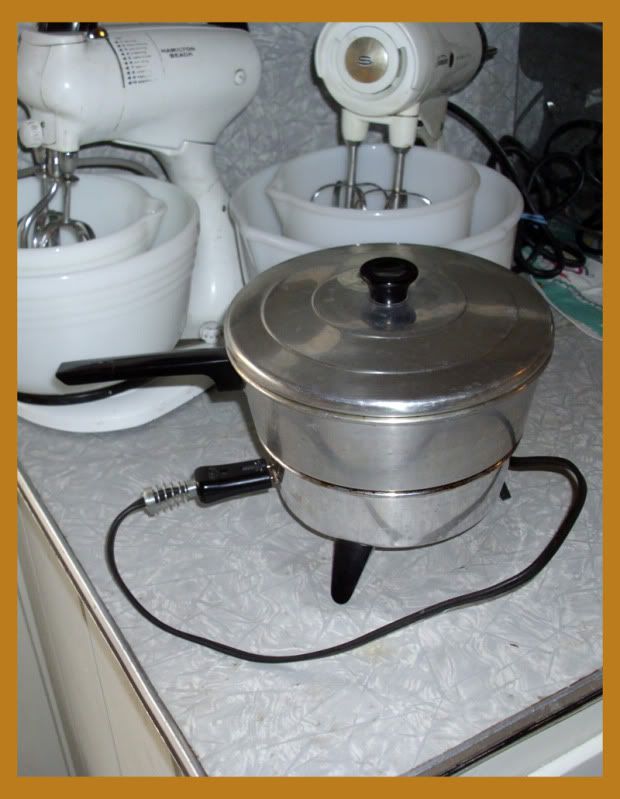 Cute 3 legged electric pot
I saw this
on the Friday portion of the sale and thought it was just a neat old electric pot but decided it wasn't a "must have". I figured it could wait till the Saturday
bag-sale
(fill a bag for 5 bucks, all items!) and if it was still there, and I still wanted it, I could get it for pennies.
On Saturday, I saw it again but still wasn't too interested in it. By my third or fourth pass around the sale it was still there and I had just enough room my last bag for it. I tossed it in and forgot about it until I got home and unpacked my loot. Once I opened the lid, I found out what it really was...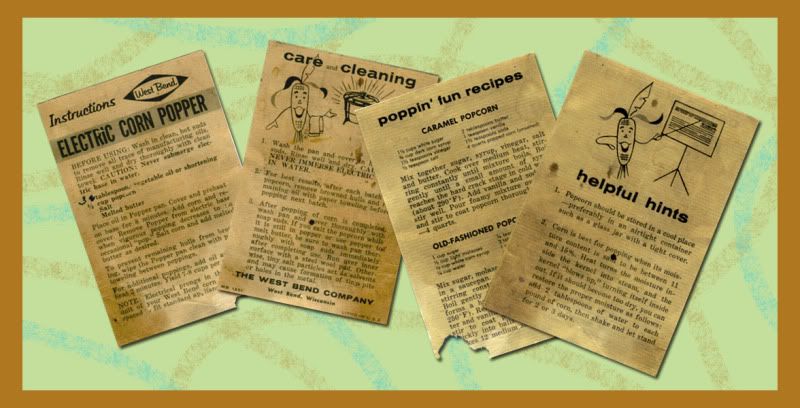 Click for larger pick
...I found this info in the bottom of the pot. It turns out it isn't just an ordinary electric pot, it is a vintage popcorn popper! I just love the vintage illustrations, and as you can see it was well used but someone had the old fashioned sensibility to save the booklet!
Here's the best part, my roommate loves popcorn. She makes it several times a week and always uses a pot on the stove. No microwave popcorn around here! One night she announced she was gonna make a batch. My ears perked up and I ran into the kitchen..."Can we make vintage popcorn?!?!" I asked, very excitedly and after I explained what I meant she said yes! She is the person attached to the hands in the following pics!
Step 1: Add the oil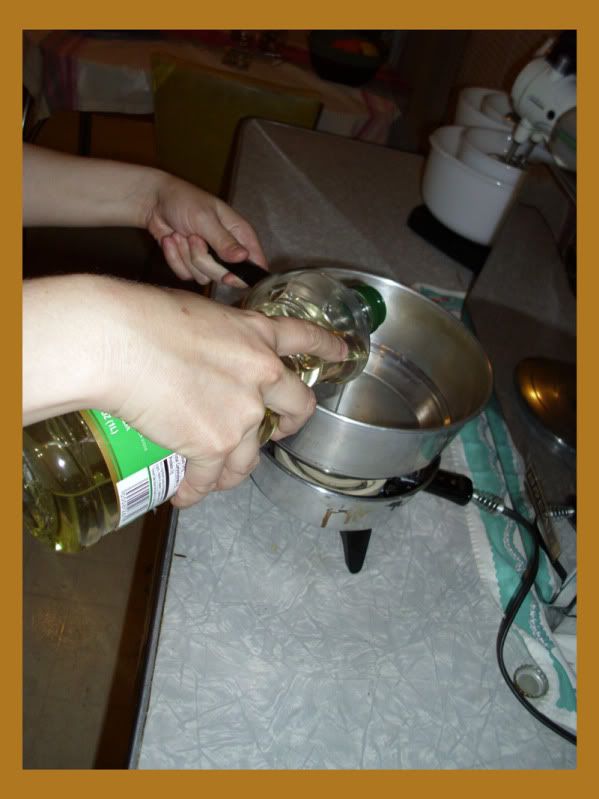 Step2: Add the kernels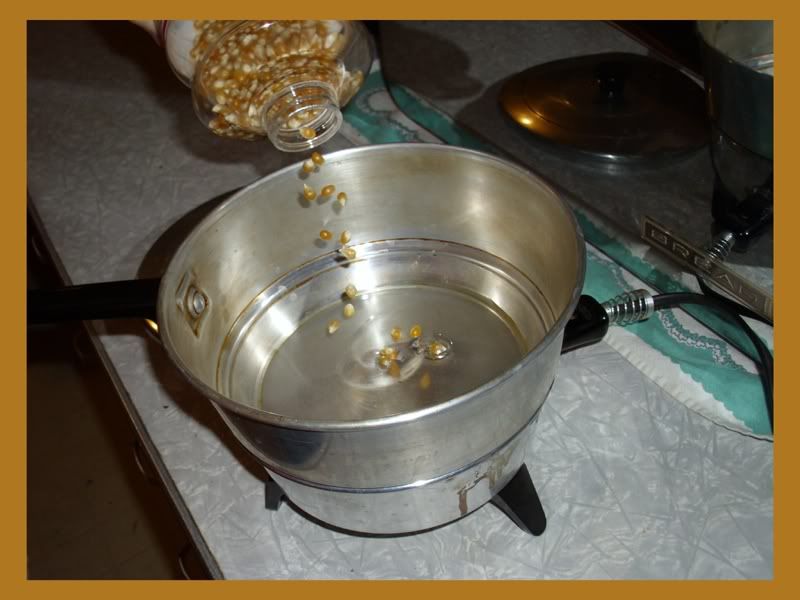 Action shot!
Step 3: Check to make sure heating element is on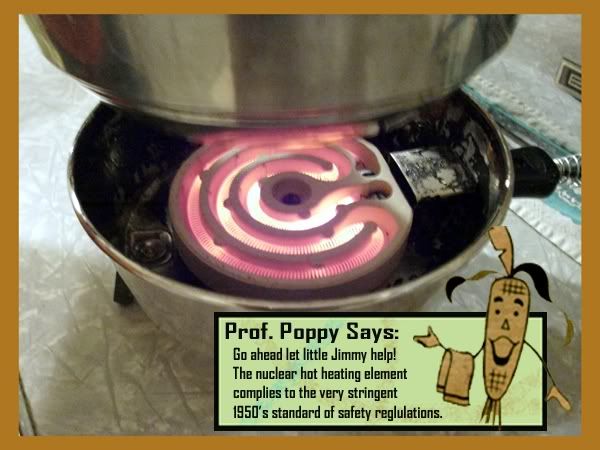 Click for larger pic
Step 4: Let the vintage fun begin! Leave pot on heat until only the "occasional pop" happens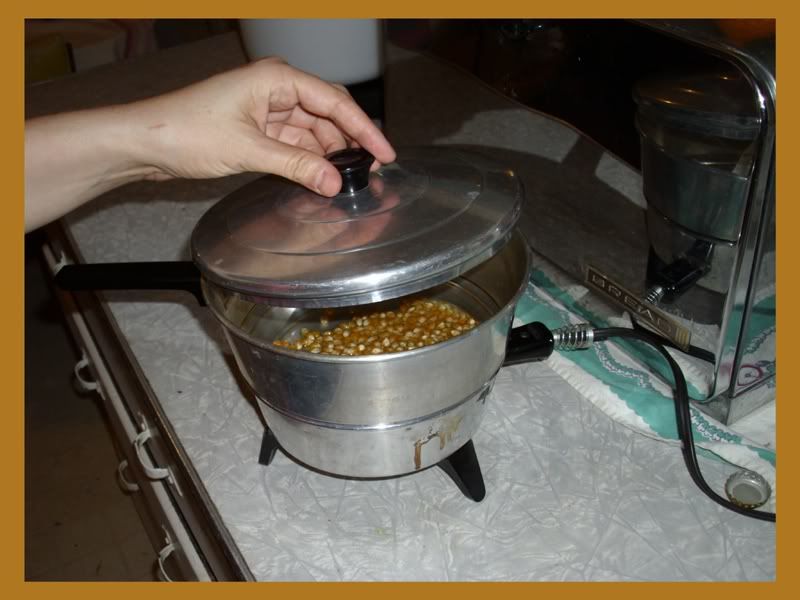 We were so excited watching it pop!
Step 5: Reveal the fruit of your labors!
Step 6: Serve your Vintage Pop Corn in Vintage Bowls! Enjoy!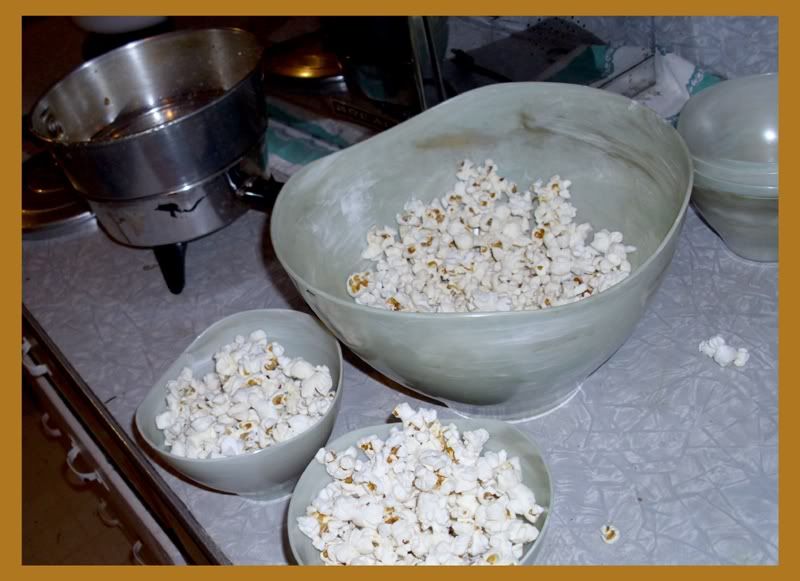 Om Nom Nom!
It was very delicious! The funniest thing about the whole deal is that the convenience of this appliance for the modern housewife is shadowed by the inherent danger of it. The thing is a bonafide fire hazard, not to mention threat to the general safety of your family. The whole thing is aluminum and light as a feather, a stiff breeze could knock it over sending hot oil everywhere. While you are emptying the popcorn from the pan, the nuclear-hot heating element if fully exposed, just waiting for the kids to grab it or have a bottle of Coca-Cola spill on it, making an electrical fire. After all is said and done, it took ten minutes for the base to cool off enough to move it. I guess that's just how people rolled back then! I would love to do an experiment/reality show where I'd have to live in a historically accurate mid-century household....at least for a little while. I'm sure the novelty would wear off right away! We are very lucky we can pick and choose what we want to be vintage these days!
P.S. Special thanks for to my roomie who is always a champ when I suggest something crazy!
It was a blast!