Where o' where to begin! I have so many wonderful things to share. I thought I'd say hello with some of my favorite friends. These are some of my "misfit" toys. I have had these guys for a long time. Say Hello Guys!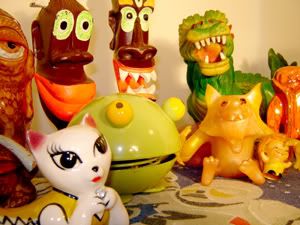 HIYAH!
I collect A LOT of stuff. Ever since I was a kid I have been very interested in old junk. I practically grew up in thrift stores and at swap meets. My mother used to take me along on her dumpster diving missions when I was a kid. We would scour the hot spots for items and resell them at the flea market. It was something I loved then and love now. As you will see....I HEART EVERYTHING!
Now, say hello to my little friends:
Mr. Dragon - A Handsome Devil
This is something I have had since I was a kid. I bought him at a random Drive-In turned Flea Market in Maryland. I had a brief infatuation with dragons back then. I just love how he is missing a horn. And what a million dollar smile!
Mr. Bali Hai - Has been there and seen that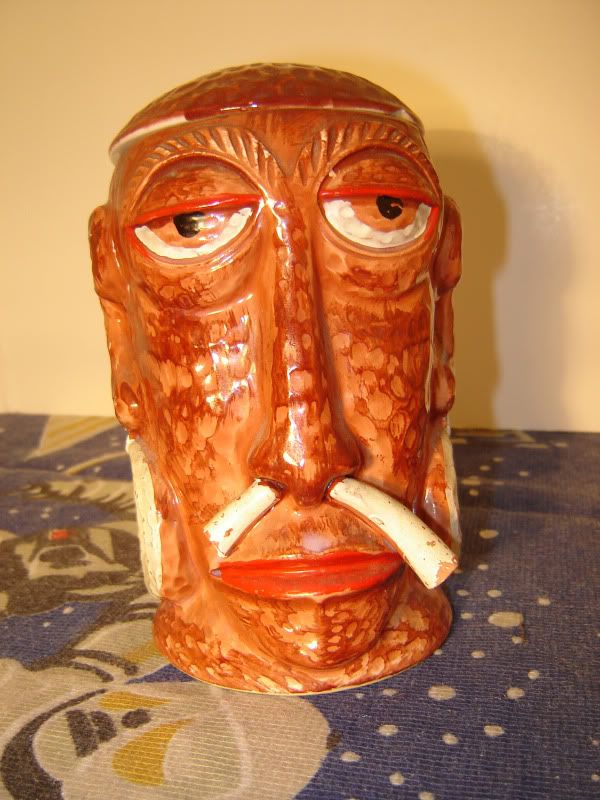 Nothing impresses this guy, believe me. I've tried. He came from an AMAZING old-lady-run thrift store in Ottway, Ohio. (Ottway was a very small township that had a restaurant/gas station & a thrift store. Some one had spray painted an "R" in front of the Ottway on the sign. lol) I paid something like .10 cents for him. Everything in there had prices form the 1950's! He is a drink mug and on the bottom it says "Mr. Bali Hai, made exclusively for Bali Hai restaurant, San Diego California. He has been missing half of a tusk as long as I've known him.
The Natives - Not Very Politically Correct - but love to party
These guys....wow. They are carved out of wood with fluorescent neon painted features. They are a fun loving couple and have no idea why people gasp when they meet them. Whatever island they are from, it is permanently stuck in the 60's! I found them in Ventura at the now defunct Easter Seals thrift store. I had seen them on my lunch break and thought they were cool but too much (about $3.00 ea.) and passed on them. I thought about them for the rest of the day and when I got off of work I ran down and bought them.
Bouncy Frog - Is a hoppin'n guy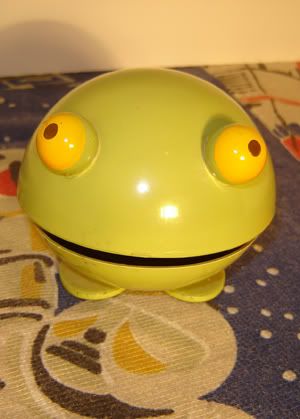 What a happy little guy! A spring connects his upper half to his lower half. He has felt pads on his feet. Everytime I see him I smile. Its fun to bop him on the head and watch him bounce. He is also from a Ventura Thrift Store.
The Monkees - Stylin' Guys
These are another item I thought was expensive (I think 7.99 ea) but they were so damn cool I bought them on the spot at the Mission Thrift Store in Oxnard. These are in my "prize jewel" category. They are ceramic with a groovy orange spotty glaze. The pic doesn't do them justice. There is a marking that says CRO 1971.
They each have what looks like the remnant of a paper cigarette in their mouths. I wish I knew more about them.
Miss Kitty - A Purrrfect Lady
She is ceramic and has a line of rhinestones running down her dress and one in her hands. She has a marking on the bottom that says D.C. SPOOR and a JAPAN sticker. I bought her for a few bucks at the Retarded Citizens thrift store in Ventura. Her age is unknown.... but that's how she likes it dah-ling!
Jelly Fox and Lil' Caveman - So ugly they're cute
Jelly Fox is made of a jiggly jelly-like substance. He has embedded wires holding up his wobbly arms and legs, plastic eyeballs and a big bushy tail that is akin to a troll doll's hair. I know nothing of his origins but he reminds me of Ed Roth's Rat Fink character. I'm guessing he's from the 70's. I got him at a now long gone Ventura Thrift store that was stuffed to the rafters with all kinds of crazy things.
Lil' Caveman is some random thingy that I got for free from a yard sale. He's a finger puppet I think and has stringy red hair and buck teeth. He is made of plastic and is hand painted. He has no idea how ugly his is, cave men don't have mirrors.
So welcome to the big happy world of I HEART EVERYTHING! These guys are just the tip of an ever growing iceberg of awesome. There is so much more to come! Y'all come back now ya hear!